Garage Door Wraps 🎃 Halloween 👻 2023
Front Door Covers - Halloween Collection🚪
- 🎅 Christmas Collection 2023 🎄 -
BE UNIQUE THIS SEASON
If you've been looking for quality banners for your garage door, you'll love this. Our banners are made of 100% polyester, plus they are Sublimation printed using high-resolution. This allows the banner images to appear distinct and sharp. 
On the good side, the 100% polyester texture of our banners makes them washable. This means that your garage door banner are safe and covered from year to year. Our banners are quite fitting for sectional garage door panels
If your garage door rusty, dented or if you simply want to change the look of your front house, Decor Your Door™ banners offer the best solution for all your needs.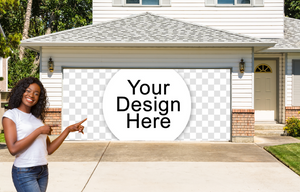 Custom Your Own Cover
Transform your garage door into a unique masterpiece with our "Custom Your Own Cover" service. Upload and personalize your design today!
Customize
- Popular Garage Door Covers -
Why Choose Us?
You might be asking, Why should I choose Decor Your Door? Well, here are the answers
Reliable Shipping Process
***Dear Valued Customers, due to high demand, orders placed after September 21st will experience a short delay in shipping, and we sincerely apologize for any inconvenience caused; we are working diligently to process and ship all orders by October 7th all orders will arrived by Oct.9 thank you for your patience and understanding.
At Decor Your Door, we ensure a hassle-free shipping process for your convenience. Every package is insured and tracked, guaranteeing that your unique garage door cover will arrive safely at your doorstep. We partner with trusted local carriers for fast and reliable delivery, with shipping times typically ranging from 2 to 4 business days. Rest easy knowing that your order is in good hands.